INFORMATION FROM THE WEB MASTER: The e-mails with the registration forms will be sent also in July, August, and September. Please note at the bottom of the e-mail in Constant Contact you can update your information for the e-mails if you have new address.

APRIL 27, 2017 Information on the NEW USS Lenah H Sutcliffe Higbee
Click on the button below to go to the web page.

Received a note from Clint Kammerer as follows:
In today's local paper there was an article indicating the price of the U.S. National Parks Senior Pass was being raised from $10 to $80. He stated "I have had one for a number of years and it is really a good deal". So guys - get them while they are cheaper!!

Recently received an email from Jeffrey E. Sallay recommending we add a link to the "togetherweserved " website. This provides a place for (all services) to document their service and connect with other members. Jeffrey requested that our website, the USS Higbee Association be added to this site and they have added it. I am adding a link to this site. Thank you Jeffrey for this valuable link to other resources. Sharon Wilson and the USS Higbee Association.

Click Here
---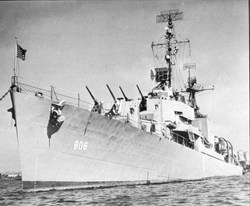 ---