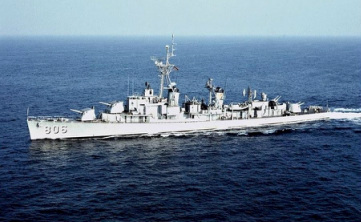 USS HIGBEE

---
The USS HIGBEE (DD 806) was launched 13 November 1944 by the Bath Iron Works Bath Maine; sponsored by Mrs. A.M. Wheaton, sister of the late Mrs. Lenah S. Higbee and commissioned 27 January, 1945, Commander Lindsay Williamson in command.

The Higbee immediately sailed to Boston where she was converted to a radar picket destroyer. After shakedown in the Caribbean she sailed for the Pacific 24 May joining the famed Carrier Task Force 38 less than 400 miles from Tokyo Bay 19 July. "Leaping Lena" as she had been dubbed by her crew screened the carriers as their planes launched heavy air attacks against the Japanese mainland until the end of hostilities 15 August. She helped clear Japanese mine fields and supported the occupation forces for the following 7 months finally returning to San Diego 11 April 1946. The post-war years saw Higbee make two peacetime Western Pacific cruises as well as participate in fleet exercises and tactical training maneuvers during both these cruises and off the West Coast. On her second Westpac cruise Higbee escorted the heavy cruiser, Toledo as they paid official visits to the recently constituted governments of India and Pakistan in the summer of 1948.

When Communist troops plunged into South Korea in June 1950 Higbee re-designated DDR-806 18 March 1949 was immediately deployed to the Korean coast with the 7th fleet. Most of her Korean War duty came in screening the Fast Carrier Task For 77 as their jets launched raids against Communist positions and supply lines. On 15 September she formed part of the shore bombardment and screening group for the brilliant amphibious operation at Inchon. Higbee returned to San Diego 8 February 1951. In two subsequent stints in Korea she continued to screen the carrier task force and carry out shore bombardment of enemy positions. In order to protect against the possibility of Communist invasion of Nationalist China Higbee also participated in patrol of Formosa Straits. Returning to the States 30 June 1953 she entered the Long Beach yard for a 6-month modernization which saw major structural alterations made including an enlarged Combat Information Center new height-finding radar and an improved antiaircraft battery.

The radar picket destroyer's peacetime duty then fell into a pattern of 6-month Westpac cruises alternating with upkeep and training of San Diego. Operating with the 7th Fleet on her Westpac cruises Higbee visited Australian and South Pacific ports frequently as well as engaging in fleet maneuvers with units of SEATO navies. Her home port was changed to Yokosuka Japan 21 May 1960. From there Higbee continued to cruise in the Pacific and along the China coast to strengthen American forces in Asia and show her determination to protect democracy against the inroads of Communism. After 2 years duty in Japan Higbee returned to her new home port San Francisco 4 September 1962. On 1 April 1963 the destroyer entered the shipyard there for a fleet rehabilitation and modernization overhaul designed to improve her fighting capabilities and lengthen her life span as an active member of the fleet. Higbee was re-designated DD 806 on 1 June 1963.

Ready for action 3 January 1964 Higbee trained on the West Coast until departing for Japan 30 June and reached her new homeport Yokosuka 18 July. During the Tonkin Gulf Incident in August the destroyer screened carriers of Task Force 77 in the South China Sea. In February 1965 Higbee supported the 9th Marine Brigade at Danang Vietnam. In May she participated in Gemini recovery in the Western Pacific. On 1 September Higbee helped to rescue the crew from Arsinoe after the French tanker had grounded off Scarborough Shoals in the South China Sea. The remainder of September was spent in naval gunfire support off South Vietnam.

While operating northeast of Luzon in late January 1966 Higbee sighted Russian hydrographic ship Gidrifon. Returning to South Vietnam in April Higbee bombarded enemy positions near Cape St. Jacques and the mouth of the Saigon River. On 17 June she departed Yokosuka for the West Coast arrived Long Beach her new home port 2 July and operated out of there into1967.


On 19 April 1972, Higbee became the first US warship to sustain bomb damage during the Vietnam War, when one of two North Vietnamese Air Force MiG-17s destroyed her after 5-inch gun mount with a 250 kg bomb. Four sailors were wounded. The second MiG-17 bombed the light cruiser USS Oklahoma City (CLG 5), causing minor damage. In return, Sterett (DLG 31) launched a Terrier surface-to-air missile, which destroyed one of the MiGs.

Higbee was decommissioned and struck from the Navy list on 15 July 1979. She was sunk as a target on 24 April 1986, around 130 nmi (240 km; 150 mi) west of San Diego at 32°28′0.4″N 119°58′0.7″W.





















Higbee Service Stars
World War II
Higbee
earned one bronze service star as DD 806 on her
Asiatic-Pacific Campaign Ribbon
as follows:
1 Star
THIRD FLEET OPERATIONS AGAINST JAPAN

14 July–15 August 1945.
Korean War
Higbee
earned six bronze service stars as DDR 806 on her
Korean Service Ribbon
as follows:
1 Star
NORTH KOREAN AGGRESSION 1950

18 July–24 October 1950.
1 Star
INCHON LANDING 1950

13–17 September 1950.
1 Star
COMMUNIST CHINA AGGRESSION 1951

6 November 1950–19 January 1951.
1 Star
U.S. SUMMER–FALL OFFENSIVE 1951

21 September–31 October 1951.
1 Star
SECOND KOREAN WINTER, 1951–52

3 December 1951–19 March 1952.
1 Star
THIRD KOREAN WINTER, 1952–53

5 December–8 June 1952.
---